Friday, November 9, 2012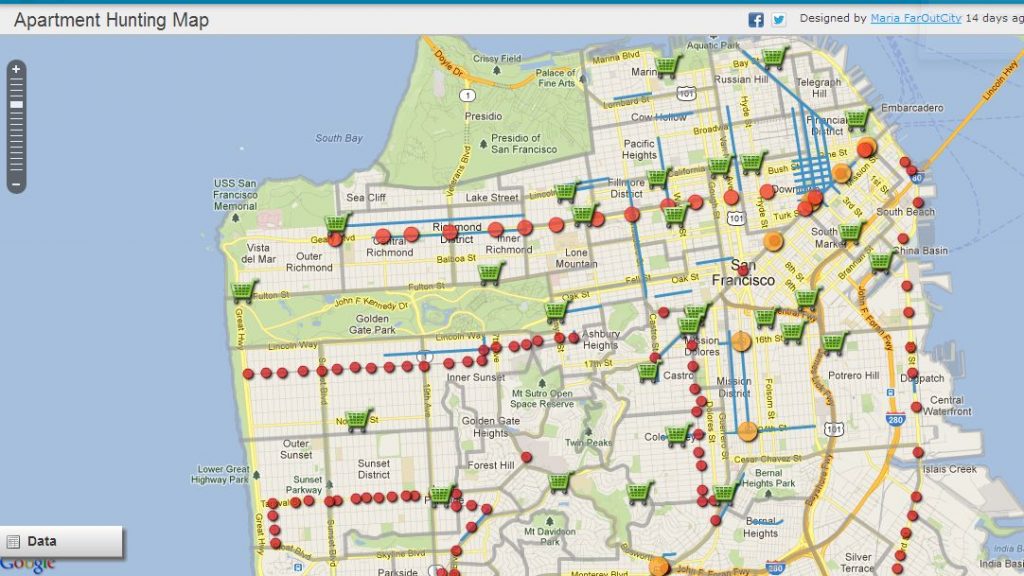 When friend Blair said she was moving to SF a few months ago, I immediately started dreaming about the ultimate Apartment Hunting Map. A one-stop map that would let her know where the fog banks are, where transit is, and where she could find a Trader Joe's.
San Francisco doesn't follow typical city patterns, with desirable neighborhoods close to the central business district followed by cheaper and perhaps more crime-ridden neighborhoods a subway or bus ride away. No, it's all kind of random here. Hence, the map.
The map's layers includes crime hot spots, fog areas, supermarkets, key transit stops, seismic zones,  dog parks, dense commercial streets, and terrain. By clicking to show or hide the layers that matter most to you, you'll hopefully be able to narrow down your search to a few key neighborhoods.
Click here: Far Out City's Ultimate Apartment Hunting Map
But Before We Get Started, Meet the Neighborhoods
San Francisco is kind of unique in that no one even agrees on what a desirable neighborhood is. It's like a high school where no clique agreed that the quarterback was indeed the most popular guy at school. Everyone in this city has their own idea of what is cool and what is functional.
First up, check out Burrito Justice's abstract neighborhood map. Familiarize yourself with the names and the general layout of the city.
Then, check out The Bold Italic's Moving to San Francisco Guide Part 1 and Part 2. Each is a quick and dirty run-through of all the neighborhood stereotypes, good and bad. Now, the descriptions are simplistic, roughly translating to "Upper East Side – Full of Rich People! And 5th Avenue!" but if you've only been to SF a handful of times, you kinda need that info.
You can also check out our neighborhood page, with day trips and lots of photos for each neighborhood. San Francisco is geographically small — 7 by 7 miles. Or, the distance from Battery Park City to the Upper West Side in Manhattan. So, really, these neighborhoods are compact and you'll likely be able to walk to 3 or 4 neighborhoods no matter where you end up renting.
Now that you've heard of things like "Potrero Hill", "SOMA", and "Divisadero", let's get into the details.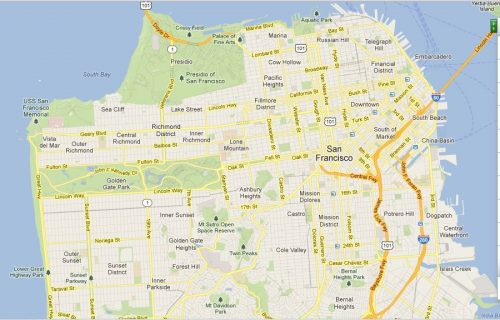 Base Layer Map
As you can probably tell, I'm using the Google Maps street network for my base layer. I assumed this would be easiest, since you'll probably be using Google Maps for your search anyway and you are already used to its configuration.
Google maps isn't always the most accurate, though, and so note that "Cole Valley" on the map is actually "Noe Valley" in real life. The real Cole Valley is south of the Haight Ashbury – around the intersection of Carl and Cole Streets.
If you plan on owning a car, take particular note of this map. San Francisco doesn't have a highway cutting through it. Highway 101 actually dead ends into the city streets before becoming a highway again after the Golden Gate Bridge. This means that if you live in a northern neighborhood and need to routinely drive south, you'll have to zigzag your way through the city's grid until you get to the entrance ramp for 101 South. Likewise, if you live in a southern neighborhood and will need to drive north, you'll have to deal with local San Francisco city traffic before you can jump on Doyle Drive. (This is partially why Noe Valley and the Mission have boomed recently – easy access to 101 South for all those tech workers reverse-commuting to Silicon Valley.)
Google Terrain
I wanted to include something that showed where the hills and valleys are in San Francisco, and this was the best layer I could find. When you turn it on, it will block out every other layer on the map. This is because the map becomes way too cluttered otherwise.
Most notable is Twin Peaks, the spine right down the geographic center of San Francisco.
Neighborhood Boundaries
I pulled this layer from the SF Association of Realtors. The lines seem off in some places (realtors, you know?), but it'll give you an idea of where the neighborhoods are as you look around the map. It's also not nearly as detailed as Burrito Justice's neighborhood boundaries.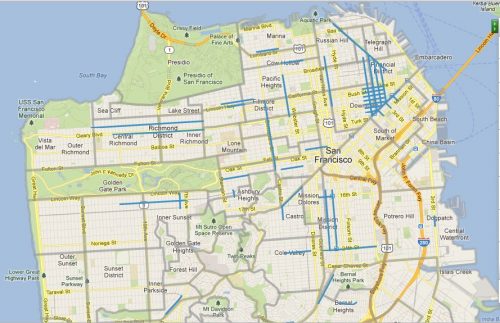 Commercial Streets
This is kind of a subset to the Neighborhoods boundaries. These are your shopping destinations around the city – the kind of streets that offer back-to-back-to-back retail. If it's important to you to be able to walk to dozens of restaurants, bars, art galleries, and clothing boutiques, pay attention to this layer.
(The dense grid in the upper right hand corner is Union Square and Chinatown.)
The Fog Layer
Blair was very clear that she did not want to live in a fog zone. Fog can be tricky – see a West Portal apartment on a crystal clear day, and you will sign the lease on the spot. You truly will, because West Portal is glorious on a sunny day. You'll then live the rest of the year wondering if you have seasonal affect disorder. Even if it's the middle of July. This map is to help you reign in those impulses.
You'll see that there are two shaded areas for the fog layer. The darker shaded area includes neighborhoods most likely to be fogged in on any given day. (And "fog" in the SF sense is usually more like overcast skies than a white-out.) They are the neighborhoods west of Twin Peaks – the 1,000 ft-high range acts as a fog barrier for the eastern neighborhoods.
The lightly shaded areas merely tend to be foggier than the southeast neighborhoods, since they are north of Twin Peaks and therefore more exposed to ocean air. As seen in this photo, taken from Bernal Hill.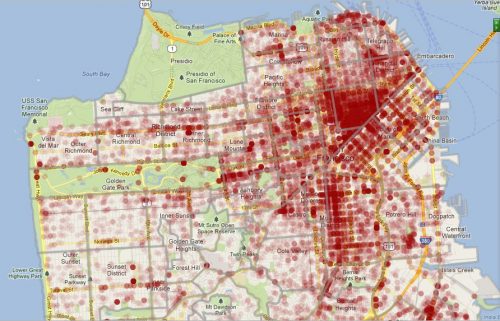 Crime Hot Spots Part 1 and Part 2
Due to Geocommons' file size limitations, I had to break the crime layer into two. Make both visible to get the full affect.
Each of the faint dots represents one incident report in the last 90 days. The parts of the map that are red are several overlapping incident reports.
So, you're probably wondering what that red triangle is in the middle of the city. Say hello to the Tenderloin – west of Union Square, north of SOMA, south of Nob Hill, and east of Hayes Valley. Yes, it's weird that the most crime and drug-riddled neighborhood in this very wealthy city is right smack dab in the center of it. The city is endlessly trying to improve the mid-Market street corridor, without much success. It's just the way it is.
The Mission — Valencia Street and east of Valencia — as well as SOMA also have their share of crime. Once you are actually looking at specific apartments, you might want to zoom in on the blocks surrounding your new home and hover over the crime spots nearby — a pop up will tell you what the incident is. A revoked driver's license might not send the same chills down your spine as a robbery or murder.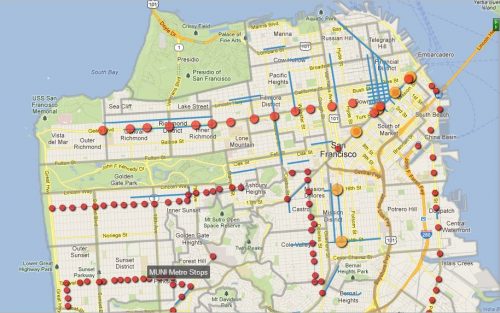 Getting Around – the Transit Layers
I've included only three transit layers: MUNI Metro Stops (red), MUNI 38L Geary Stops (pink), and BART Stops (orange). If you are planning on living in San Francisco without a car, or you at least plan on getting to work every day without a car, you should pay extra attention to where these stops are. This goes doubly if your job is in Oakland or other points in the East or South Bay.
(I didn't include buses. Buses run on nearly every large boulevard in the city and stop roughly every other block. Some buses are better than others. Some buses are downright terrible. Take a bus the next time you visit, and you'll immediately know whether you'll be able to deal with a daily bus ride or not.)
The MUNI Metro (surface streetcar that goes underground on Market Street) comes about every 10 minutes and only travels within San Francisco. It does not go to the East or South Bay. The 5 lines share the same track on Market Street, which means that if you're traveling from downtown to the Castro or Hayes Valley, you can jump on any of the 5 trains – you'd rarely have to wait more than a couple of minutes for the next train. The Metro runs above ground beyond the Castro, splitting into its separate routes to the Outer Sunset,  Noe Valley, Bernal Heights, and Ingleside. The northern half of San Francisco is not on the MUNI Metro system.
The 38L Geary Unlimited bus is special, which is why it has its own layer. It comes every 6 minutes on weekdays and only stops at a few intersections. So, it operates more like rail transit than a traditional bus. (If you think there's another bus line that operates as smoothly as the 38L, please let me know and I'll add it to the list.)
BART is a subway/commuter rail hybrid in the Bay Area. It travels from the South Bay, through San Francisco, to the East Bay. It also connects directly to SFO and will connect directly to Oakland International Airport in 2014. If you work in Oakland, you'll want live near a BART station. If you plan on traveling through SFO or Oakland International frequently and don't like taking the Super Shuttle or taxis, you'll want to live near a BART station.
That being said, BART's service within San Francisco is limited – only 8 stops total, all underground. But, BART is very fast, much faster than the MUNI Metro lines. It's a 5-10 minute ride from the Mission to Union Square or the Financial District.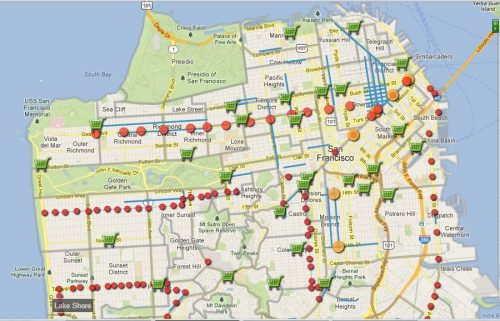 Supermarket Layers
If you aren't planning on driving everywhere, you'll want to live near one of these. Of course, there are small grocers and markets everywhere, especially if you live in the Mission, Richmond, Chinatown, or Sunset. But, this is for those of you who want the 20 aisle giants.
I've broken what should be one layer into multiples, to better reflect your own supermarket shopping preferences. I like Safeways. Blair likes Trader Joe's. Everyone's got their thing.
I've also included some local San Francisco supermarkets like Mollie Stone's and Rainbow Grocery, because they are quite lovely and you'll be lucky to live near one.
Dog Parks
Really, it seems like every park in San Francisco is a dog park, but the city does recognize a few parks as official dog parks (including several spots in Golden Gate Park). Some of these are just regular parks where the city allows you to let your dog go off leash. Others are more formal, gated dog runs.
Seismic Liquefaction Zones
Long time readers know that I love to bring up liquefaction – where soil will literally turn to liquid during an earthquake. This is a handy map of where those spots might be around the city. Enjoy.
So, there you have it! If Dave and I had this map to figure out where to live when we first moved here, it would have looked something like this:
All we cared about was access to BART (we work in Oakland), access to 101 South (we have family in the South Bay), Safeway, and sun (or the lack thereof). We quickly narrowed our search to the Duboce Triangle, the Castro, Mission Dolores, the Mission, and Bernal Heights. We really feel like we picked the best spot for us, and have no plans on moving any time soon.
This map is a work in progress — if you're planning your own move here soon and would like to see something else represented on the map, just let me know and I'll update it. Or, if you have any corrections, e-mail or drop a comment.
Happy apartment hunting! Click here to go to the map.
Related posts: